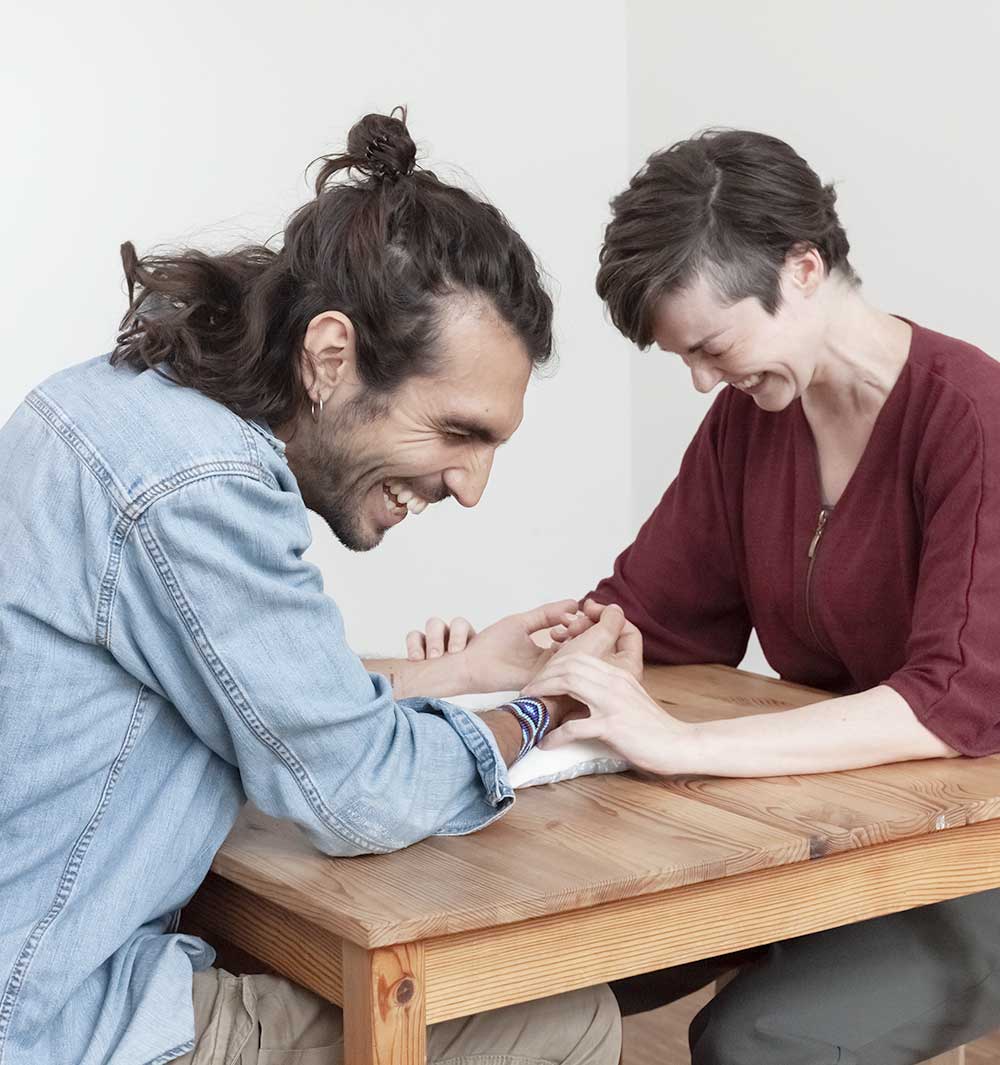 Your Acupuncture Diploma Program at Shou Zhong with AGTCM Certification
Are you looking for an established program in Traditional Chinese Medicine? We offer you everything you need to learn the craft of acupuncture.
Our three-year acupuncture diploma program with AGTCM certification paves the way, step-by-step, for you to gain the knowledge and practical skills to begin your own acupuncture practice as a competent therapist.
In addition to comprehensive theory, we offer you a highly focused basis in practice found nowhere else in Germany.
As a school, we've made it our business to train our associates in acupuncture and Chinese medicine. And we pursue this passion with enthusiasm because acupuncture inspires us. All school faculty have their own practice and understand their craft as a vocation. We'd like to share this joy and experience with you and prepare you well for the craft of acupuncture.
You are very welcome to attend an information evening. Our faculty is happy to answer all your questions about the acupuncture program as well as other courses at our school. The 2024 acupuncture program starts February 17, 2024.
For dates of the information evenings click here.
The information evenings take place at our school Belziger Str. 69/71, 10823 Berlin or online via Zoom.
The 2024 acupuncture program begins on February 17, 2023.
Theory
3 years – approx. 1,230 academic hours
53 weekends, each with 14 academic hours
Class meets: Saturday 10 AM – 5 PM & Sunday 10 AM – 5PM
Teaching Practice
456 hours of teaching practice
76 teaching practice units as of year two (one day per week)
Visiting hours:
Tuesday 4:30 PM – 9:00 PM
Wednesday 9:30 PM – 2:00 PM
Thursday 2:30 PM – 7:00 PM
Friday 9:30 PM – 2:00 PM
All members of our acupuncture faculty graduated from programs with renowned international teachers of acupuncture and Chinese medicine and have at least five years of work experience. Click here for our faculty page.
To participate in the acupuncture program there are no prerequisites necessary.
To be able to practice acupuncture in Germany you must have the alternative non-medical practitioner certificate (Heilpraktiker*in) or a medical degree.
€330 per month (€11,880 total)
Enrollment fee: €100 (waived if registered by 15/12/2023)
Payment is made monthly via direct debit.
Examinations take place annually at the end of the first, second, and third year.
Year 1: written exam, 90 minutes
Year 2: written exam, 90 minutes
Year 3: written exam, 120 minutes
Written cases: 120 minutes
Acupuncture points: 30 minutes
Oral case: 30 minutes
If you pass the exam with a score of 60% and have an attendance record of at least 80%, you receive a certificate/diploma from the Arbeitsgemeinschaft für Traditionelle Chinesische Medizin (AGTCM) Fachverband für Chinesische Medizin (see requirements).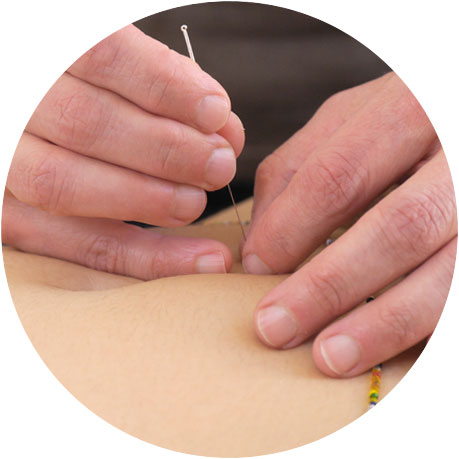 Year 1
In the first year you learn the fundamentals of Chinese medicine and how to think in its underlying philosophical model. You gain insight into the concept of the five elements and the physiological and pathological mechanisms of the organ systems (zang/fu syndromes). This year we highlight the trajectories of the principle meridians and important acupuncture points. Further, you gain a lot of practical experience with acupuncture needles and qigong techniques. We also take our first steps with Chinese pulse diagnosis.
The program begins in February on Chinese New Year, which initiates the annual cycle of the five elements. Class is structured to steer students through each of the five elements (seasons), while introducing you to the comprehensive knowledge of the philosophical tenets of Chinese thought. In addition to the technical know-how we share with you, it is important to us to guide you in expanding your personal experience with ancient Chinese thought. The integration and application of knowledge, feeling, and physical experience is a great strength of Chinese medicine, which approaches the person holistically.
Lessons consist of the following components:
Introductory Lesson and Diagnostic Foundations
The first three weekend seminars give you an overview of the history and philosophy of Chinese medicine. We explain various diagnostic concepts and terminology which guide you in the next lessons. For us it's important that you encounter practical aspects from the very beginning. Mastery is attained through practice, so we get you working with acupuncture needles from the get-go. You learn how to use this tool early on and build upon this in subsequent years.
The Five Elements
In Taoist theory, the five elements are a description of natural cycles. Every year is defined by phases of growth, blossoming, fruiting, retreat, and regeneration. These principles operate in the macrocosm of nature and in the microcosm of the human. Each phase of transformation (wood, fire, earth, metal, water) follows a dynamic principle and combines many aspects you experience in class through various exercises. We accompany you through the energetic transformation of the year while exposing you to the philosophy and energy of each of the current phases. In this way you develop an understanding for the complex interactions between nature and human.
Physiology and Pathology
In this lesson you gain understanding of the functional circuits of the different organs. In these weekend courses the formation of bodily fluids, blood and qi, and their pathologies are emphasized. The 12 organs are divided into storage and hollow organs (zang and fu), where the natural functions may deviate from the Western perspective. For example, each storage organ houses an aspect of the soul, which in Chinese medicine is termed the Five Shen. After exploring the organ functions, we shift the focus to pathology (zang/fu syndromes). Here we introduce you to the various patterns of disease for each organ from the perspective of Chinese medicine. Alongside functional and organic changes of their bodily symptoms, mental and emotional factors are also involved.
Qigong and the Meridian System
The meridian system permeates the body like a web. Life energy or qi flows through it. Acupuncture points are found all along the meridians, which can be stimulated during treatment using different methods. Because the meridian system is quite vast, the meridians are divided into various categories. In year one you'll become acquainted with the 12 primary meridians and their nexuses. Here we give you an overview of the energetics of the meridians, their trajectories and important acupuncture points, so you can get your bearings. You'll apply your acquired knowledge in various exercises in order to integrate theory into practice. Practical experience with qi and the meridians is essential to deepen your further studies.
On every meridian weekend we provide you with insight into various qigong techniques and exercises. Qi is translated as life energy in Western society. Qigong is a technique for maintaining health and building up life energy by consciously strengthening and circulating qi through the meridians and energy centers of the body. Fixed routines including breathing exercises and visualizations, and sometimes mantras and mudras, are combined in a set of movements. Many different kinds of qigong exist, just as many different styles of acupuncture have developed over the centuries.
We introduce you to a small selection.
Examination
At the end of year one, there is a 90-minute written examination on the material covered over the course of the year.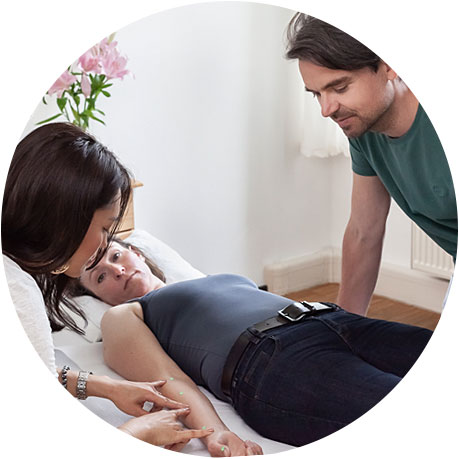 Year 2
In the second year, in addition to deepening our studies of the meridian system and acupuncture points, we shift our focus to the diagnostic tools in Chinese medicine. For a holistic diagnosis, taking the pulse and examining the tongue as well as findings from personal medical history are essential. This prepares you to apply and enhance your acquired knowledge while treating patients at the school's teaching practice.
Diagnostics
After learning the basic patterns of pulse diagnosis in year one, in year two you'll be able to expand on this over the course of four weekends. Pulse diagnosis is a complex system in Chinese medicine. It allows you to make highly differentiated diagnoses and get to the bottom of disharmonies in the body.
Similarly, tongue diagnosis is a very important tool in Chinese diagnostic assessment. You'll learn to differentiate and observe the tongue in all its aspects over two weekends. From the picture of the tongue you gain a lot of information that reflects the overall state of the body and functional circuits.
Both diagnostic systems are mutually supportive, and along with the personal medical history will help you to cement your assessment.
To arrive at a differentiated diagnosis, Chinese medicine offers you various thought models that have evolved over the centuries. Many of these models – the zang and fu approach to syndromes, the division into various substances, the five elements, the eight principles, or the energetics of the six levels meridian theory were already mentioned in year one. In year two they will be further expanded upon and solidified. We want you feel confident with and integrate these models to give you a solid foundation for your work as a therapist.
Meridians and Acupuncture Points
In year two of the program we shine comprehensive light on the meridian system in all of its interconnectedness. What you internalized in year one you'll be able to bring together more subtly this year. Many acupuncture points have a broad spectrum of application. We'll introduce you to various aspects and categories of acupuncture points and how to apply them in practice. In this year's coursework you'll identify all acupuncture points along the 12 primary meridians, those of the ren and du mai in a theoretical part, and locate and feel them in practical exercises.
In acupuncture, various techniques of insertion and stimulation can be used to vary the focus of treatment. There are tonifying, sedative, and balancing methods which you will learn this year.
You'll warm acupuncture points with mugwort and learn cupping and gua sha in a separate class. Gua sha is a scraping technique done with special tools. In moxibustion, mugwort is burned to achieve various effects depending on the technique.
Teaching Practice
In year two the acupuncture teaching practice begins after spring break, and has done so since 1993. On a half day during the work week you can try out what you've learned to build confidence and gain experience in treatment procedures. What's nice about the teaching practice are those first experiences of treatment success with patients while working in small faculty-supervised teams with third year students. Contact with advanced students and practitioners allows you to overcome obstacles faster. Third year students offer you a wealth of experience. Treating patients involves every part of the anamnesis, including pulse and tongue diagnosis, issuing a diagnosis, planning therapy, and implementing the chosen therapeutic concept. Individual faculty members and their affinities underscore the variety of acupuncture styles and treatment possibilities.
Encompassing 480 academic hours in years two and three, the teaching practice gives you quality and a clear focus to begin your everyday working life confidently and well-prepared.
Examination
At the end of year two, there is a 90-minute written examination on the material covered over the course of the year.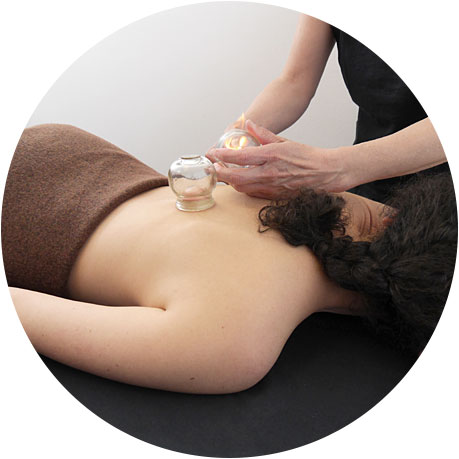 Year 3
In year three, we revisit the subject matter covered in the first two years and apply it to various symptom complexes in Western medicine. You gain insight into Chinese nutrition, Chinese pharmacology and tuina, a manual therapy, each on their own weekend. Further, we introduce you to treating patients using Japanese meridian therapy and the eight extraordinary meridians. You'll continue to gather experience and practice-based knowledge in the teaching practice.
Sets of Issues
To convey the differentiations that undergird Western designations of illness from the Chinese medical perspective, in year three we specifically address various areas and issues of the body from the perspective of Western medicine. We examine the head, abdomen, lungs, skin, pain in general, gynecology and pregnancy, joint and muscle pain, the cardiovascular system and the genitourinary system; and we give you a compact, yet comprehensive repertory of treatment strategies. You'll be able to classify and differentiate among various symptoms. Along the way you'll review various concepts of pathology and physiology to enhance and complete your knowledge. You'll continue to gain practical experience with diagnostics and needling techniques.
Special Treatment Strategies
On two weekends you'll engage with the qi jing ba mai, deeper meridians that are also understood to be the prenatal vessels. You'll learn Dr. Yoshio Manaka's treatment method for these.
One weekend, Stephen Birch will also give you insight into Japanese meridian therapy, which he'll train with you in diagnostics and practice.
Emotions in Chinese medicine are the inward cause of illness. In year three you'll become familiar with the theory and treatment concepts specifically related to this fundamental and influential field of the emotions and psycho-emotional imbalances.
Chinese Nutrition, Chinese Pharmacology, and Tuina
In year three we also draw connections to the other pillars of Chinese medicine. Acupuncture, one of the five pillars, is of course the focus of this program. Another pillar, qigong, you got to know and experienced in practice in year one.
For insight into nutritional counseling from a Chinese perspective in practice, on one weekend you gain basic knowledge of the tastes, thermal, and energetics of food items and general nutritional recommendations for various imbalances. You can apply this directly in the teaching practice.
The lesson in Chinese pharmacology will give you a small set of fixed formulas that you can easily use in your practice along with your acupuncture.
On the tuina weekend you'll learn various hand movements and their practical use in responding to muscle pain. Tuina gives you the advantage of coming into closer contact with the meridians on a bodily level.
Teaching Practice
This year you'll gather more experience in the school's teaching practice by treating patients. Now an advanced student, you'll look back on a year of practical experience with a certain sovereignty in dealing with patients and their treatments. With your knowledge you can support second year students as they begin treating patients. The exchange between students amplifies your knowledge further and draws your attention to questions you may have not asked yourself before. Alongside actually treating patients, the faculty revisits these questions with you.
Final Examination
The final exam consists of one written and one oral/practical part, which itself is divided into two parts.
The written part is a 120-minute test and a 120-minute elaboration of case examples.
The clinical part of the final exam consists of a set of point localizations. Acupuncture points are pulled at random and the student's knowledge of their location is tested.
In the oral part the student presents a case example to faculty examiners.