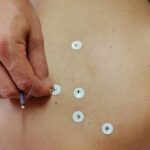 Kinseikyu – Posture Balance with Moxibustion
Felip Caudet (engl.)
Every human being in this world has a unique posture that defines him or her as someone special. Although it is a common aspect of everyone, we know very little about our own posture. Usually, people suffer from posture and think that posture is the way of sitting or the way of walking, these are only the postural habits or consequences of them, but not the posture.
Posture is how we are organized in the space and in front of life. It is the result of adding the position in the space of different structures that make up the human body and the overall relationships between them. Mechanical and functional relationships are formed by the balance between the various muscle chains, the fascia and the energy flow in the channels. The posture should never be seen as good or bad, it should be seen as the situation which gives or not gives problems. This means that often we think that it is good or bad posture as compared to the social idea of posture. Something for us to be concerned about that is if our posture creates dysfunction and pain, if it is the perfect frame for the internal disease or if it makes it difficult to relate to other people. An optimized posture is the posture that does not cause dysfunction or pain. It can be considered beautiful and healthy while allowing natural, elegant and harmonious movement.
Moxibustion and posture?
KINSEIKYU is the answer. Kinseikyu is a method that achieves postural rebalancing of the body in order to suffer less injury and achieve a healthier appearance. In the Japanese language, Kin means balance, sei means posture and kyu means moxibustion. Then Kinseikyu is Posture Balance with Moxibustion. Applying this method, the posture is changed immediately. It is also a new way of using moxibustion, because this tool can modify the physical structure to achieve effects on the structure itself, on the organic, emotional and mental functioning. The possibilities are therefore numerous.
This discipline is a good idea for all those who are concerned about patients who repeat and repeat the same structural problems for no apparent reason (back pain, joint pain, dysfunctions, etc.), for all that want to understand how the body makes adaptations in the organic diseases, for all professionals who wish get a comprehensive understanding of the body. The application of moxibustion techniques and a special manual technique of fascial release at key points of the posture, will release and restore posture balance in a smooth and pleasant way.
In this seminar, you will learn all the basic rules and techniques to get the posture balance and a new way of looking at the body and the disease.
Friday-Saturday
Basics on direct moxibustion and Ontake
Posture, mechanical relations and visual assessment
Proprioception as a tool, Standing test
Fascial release and muscle tension
Kinseikyu rules
Levels to correct:
1. Feet (plantar arch, ankle)
2. Knees (back, flexion and rotations)
3. Pelvis-Spine (4 variations)
Sunday-Monday
Observation
Energetic release of the meridian chains (points)
Levels to correct:
4. Blocked diaphragm
5. Thorax-Head
6. Upper limb (forward, rotation)
7. Globality
Prerequisites for participants: Basic training in TCM
The course language is English.
Felip Caudet is offering a free Kinseikyu exercise group on 01.02.2024.
It will take place from 5 to 7 pm at Shou Zhong.
Please register at: weiterbildungen@shouzhong.berlin
Felip Caudet has been in practice as a physiotherapist and acupuncturist since 1999, and specialises in Japanese moxibustion. He studied with the masters Tetsuya Fukushima and Hideo Shinma (son of Master Fukaya). Currently, Felip is recognised as the fourth in the teachers lineage of Fukaya Style of Moxibustion due to his developments and contributions to the style.
He also developed a revolutionary moxibustion method called Kinseikyu method (Posture Balance with Moxibustion). He has published several books, some translated to other languages, on moxibustion and articles in international journals as the North American Journal of Oriental Medicine, Acu or Osaka Shinkyu Journal. Nowadays he combines his clinical activity in Spain with teaching around the world (Japan, Brazil, France, UK, Denmark, Italy, Portugal, Netherlands).
Direkte Anmeldung
für den Kurs
*** Anmeldungen bearbeiten wir zu den Bürozeiten Montag bis Freitag ***
Kinseikyu – Posture Balance with Moxibustion
dates
02.-05.02.2024
teaching hours
Friday to Sunday 10 to 6 pm
Monday 9 to 4 pm
credits
15
costs

750 €

AGTCM Mitglieder 600 €

SBO TCM 675 €